We conducted our occasional poll on most pressing business drivers for providing localized content to customers during our July 11 webinar with Idiom and EMC. (See below for results.) A post-webinar email exchange about the results stimulated a discussion on the business impact of established versus emerging markets (geographic regions in which economies are still developing). How are global companies approaching growth strategies? We set out to look for indicators.
Two of the 12 Megatrends in B2B Marketing indentified by the Economist Intelligence Unit in a recent survey underscore the importance of emerging markets in reaching global executives. From the report:
"The geographic demographics of today will bear little resemblance to those of the next ten years. . . by 2017 China will become the world's largest economy when growth is measured on purchasing power parity. . . for 2006, [study] sponsoring organizations are targeting Asia and central/eastern Europe more than the Americas and western Europe."
"…there is a growing belief that the high-flyers of the next decade will arise from the ranks of today's domestic companies (domcoms) in emerging markets."
We also looked at the performance of companies reporting quarterly earnings this week. On an interactive Earnings Cheat Sheet available on wsj.com, analysts say that IBM's expansion in Asia is a positive factor:
"In the first quarter, IBM's Asia-Pacific revenue rose 10% to $4.5 billion, on growing demand in China and India and a turnaround in Japan. Management said in May that it plans to increase staffing in China by at least 10% in each of the next few years."
And in commentary on Merrill Lynch's global reach:
"Merrill's non-U.S. revenue has been setting the pace and now accounts for more than half of its GMI total. In April, Merrill said it's taking a $2.9 billion stake in Resona Holdings, the largest foreign investment ever in a Japanese bank."
One question pertinent to Gilbane readers is the timing of real investment in content technologies that will enable businesses to realize potential in these markets. For what should enterprises plan, and when?
July 11 webinar attendees see other factors as more pressing drivers today. Time-to-market for simultaneous product shipments is the most important, global and product brand management least important.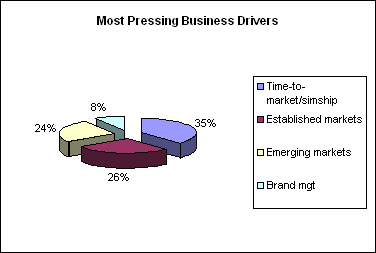 These results are not surprising considering that the topic of the webinar was technical documentation for global markets. Participants were naturally inclined to be more concerned about shipping the documentation with the product and less concerned about brand management.