This page contains links to our series of "Beacons", short reports providing guidance on important strategic and tactical issues facing IT and business managers on Content Strategies, Practices and Technologies, that were published between November 2008 and December 2009 and can be downloaded for free. Beacons published after January 2010 are currently managed by Outsell Inc. These reports were also publicly available so may be found online. If you have trouble finding the report you are looking for contact us for help.
---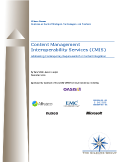 Content Management Interoperability Services (CMIS) – Addressing Contemporary Requirements for Content Integration
Dale Waldt, Senior Analyst, Gilbane Group, December 2009
Sponsored by members of the OASIS CMIS Technical Committee including: Alfresco, EMC, IBM, Microsoft, and Nuxeo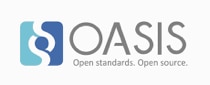 The deployment of multiple content management (CM) systems within a single organization is no longer a business trend, but a business fact. Executives want to make decisions based on strategic goals and objectives, not on whether systems can be integrated with reasonable effort. Business buyers of CM want to be able to embrace integration so they can implement best-of-breed, purpose-built systems for specialized applications like digital marketing and electronic discovery. They need systems that connect externally as well as internally, supporting relationships throughout their value chain.
The Content Management Interoperability Services (CMIS) specification is a market-driven response to CM integration challenges. CMIS is being developed under the auspices of OASIS (Organization for the Advancement of Structured Information Standards) by an OASIS Technical Committee. CMIS specifies a standardized content management repository access method, providing a powerful, consistent way of connecting CM systems. It is designed to reduce integration complexity and the development time and costs required to provide interoperability between disparate systems. With CMIS, creating integrated content ecosystems with two or more repositories will be easier, cheaper, and faster. This paper describes the CMIS specification itself, the business and technical drivers behind its creation, and the benefits organizations can expect to see with its deployment.
---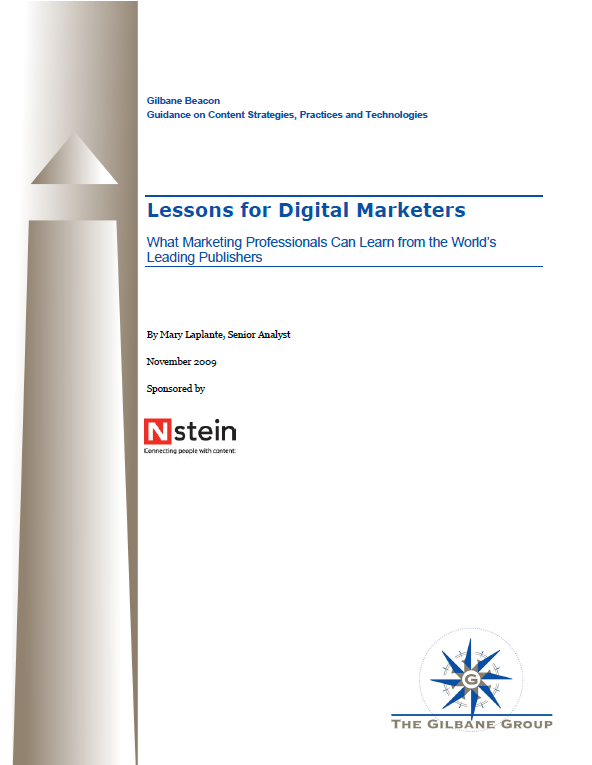 Lessons for Digital Marketers – What Marketing Professionals Can Learn from the World's Leading Publishers
Mary Laplante, Senior Analyst, Gilbane Group, November, 2009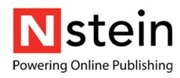 Gilbane believes that digital marketing managers can learn a great deal about leveraging content assets by drawing on the experiences of other content-rich organizations. One of the best candidate industries for lessons learned is the publishing industry. Challenges faced by CMOs and publishers are very similar: content closely tied to revenue streams, large volumes of diverse content types, rapidly evolving expectations regarding personalized content and interactivity, and requirement for frictionless publishing in order to meet the need for content immediacy.
In this paper, we share insights that will help digital marketers think like publishers. We draw on several examples that show how leading publishers have addressed knotty problems at the core of their businesses. We describe the content technologies that are central to their solutions, and we show how these tools and technologies can be deployed within digital marketing environments to achieve business results. Our goal is to help marketers develop a new perspective on their challenges, one informed by successes in another industry.
---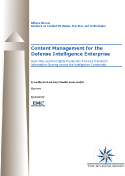 Content Management for the Defense Intelligence Enterprise – How XML and the Digital Production Process Transform Information Sharing across the Intelligence Community
Geoffrey Bockand Barry Schaeffer, Senior Analysts, Gilbane Group, June, 2009

Over the past decade, DIA has invested heavily in XML to drive interoperability standards for defining, managing, and publishing community-accessible content. Mandated in 2002 as Intelligence Community Metadata System for Publications (IC-MSP), required to be in use by 2003, and most recently specified as Implementation Profile for Intelligence Publications (XML Encoding) (PUBS-XML),4 DIA defines the XML schemas and data dictionaries for the major types of documents produced within the intelligence community. Furthermore, the Intelligence Community Standard for Publication Metadata (ICS PUBS) relies on PUBS-XML to describe the structural components of documents and provides the foundations for "the successful implementation of a wide range of advanced automated tools that will help find, organize, analyze, and manage information products."
With the adoption of content management technologies that leverage XML, it is now possible for stakeholders to develop and deploy interoperable systems. But XML as the underlying tagging standard is only the means to an end – the overall DIA objective of ensuring interoperability and community-wide information sharing, including the mandate for stakeholders to submit reports to the Library of National Intelligence (LNI).
---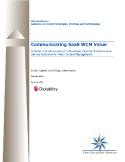 Communicating SaaS WCM Value – A Guide to Understanding the Business Case for Software-as-a-Service Solutions for Web Content Management
Mary Laplante and Bill Trippe, Senior Analysts, Gilbane Group, January, 2009

Imagine that your company is not impacted by the economic issues that define the global business climate in 2009.
No spending freezes, no budget cuts, no staff reductions. No standing still amid uncertain and unpredictable external business factors. Upgrades and enhancements to critical business applications go ahead as planned. New web strategies for delivering content, increasing revenues, and satisfying customers are executed as top priorities, following executive mandate.
Now imagine that you can still move ahead with your web business programs, in spite of uncertainty. What would you gain by acting when others wait for recovery? What would that mean to your organization when the economy shifts around again?
This paper will help you understand how SaaS WCM fits into a strategy for making investments that create competitive advantage, even in unpredictable economies.
---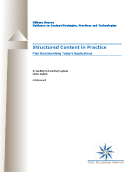 Structured Content in Practice – Peer Benchmarking Today's Applications
Geoffrey Bock and Mary Laplante, Senior Analysts, Gilbane Group, October, 2008
The Gilbane Group and JustSystems are working together to crystallize the business benefits of structured content – documents that have been chunked into meaningful component parts and tagged in a systematic fashion. As industry analysts and software developers, our joint efforts are based on a simple assumption. We believe that tagging business documents by relevant components and managing the resulting chunks (sometimes termed content components) in a systematic manner will transform, and perhaps revolutionize, how companies use information to meet business objectives.
Structured content promises many business benefits for content intelligence and content reuse.JustSystems has developed, with support from Gilbane Group, the ROI Blueprint for Structured Content. The ROI Blueprint is a tool for analyzing the business value of structured content. We anticipate that content professionals, information architects, and systems designers will use this blueprint as a guide to examine how heretofore "unstructured" documents affect current activities and business processes.
---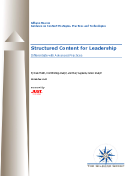 Structured Content for Leadership – Differentiate with Advanced Practices
Dale Waldt and Mary Laplante, Senior Analysts, Gilbane Group, November, 2008

Companies create competitive advantage with technology by building on current practice in ways that others in their industries have yet to discover or implement. They pursue and establish leadership positions by extending existing knowledge into new domains and experimenting with established principles. The rewards for success can be significant, not only in terms of revenues, operational costs or other business measures, but also in terms of new skills, knowledge and expertise that create true competitive advantage and open doors to innovation.
Emerging applications for structured content have the potential to deliver this kind of value to organizations willing to go beyond current practice. Structured content can support a wide range of business activities, from the classic and well understood uses (in areas such as technical documentation) to emerging applications that enable organizations to become leaders in their field. If you already use structured content within your organization, you may be looking for opportunities to advance your current practices to create new value. Which applications are emerging as the next wave of XML adoption? How do they relate to your current implementations and initiatives? Once identified, how can you sell them to management?
In this paper, we look at real examples drawn from companies who are taking a leadership role in defining new approaches and implementing transformational applications of structured content. These examples will illustrate the positive impact on revenue growth, cost reductions, and risk mitigation. The foundation for the discussion is the "Leadership" view of the ROI Blueprint for Structured Content.
---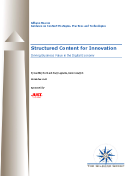 Structured Content for Innovation – Driving Business Value in the Digital Economy
Geoffrey Bock and Mary Laplante, Senior Analysts, Gilbane Group, November, 2008

The Gilbane Group and JustSystems are working together to crystallize the business benefits of structured content – documents that have been chunked into meaningful component parts and tagged in a systematic fashion. In this report, we will consider how structured content can be used to foster innovation of business operations and processes, and thus drive promising and profitable business opportunities.
What is structured content for innovation? We believe that you need to focus on business results. To our way of thinking, structured content for innovation enables an organization to do what has not been possible without structure, and without the processes that structured content enables. Innovation brings fundamentally new capabilities to an organization. Innovation derives not just from how structured content is used, but also from where it is used.