This page contains links to our series of "Beacons", short reports providing guidance on important strategic and tactical issues facing IT and business managers on Content Strategies, Practices and Technologies, and can be downloaded for free. These reports are currently managed by Outsell Inc. so some links will take you to the Outsell Inc site. If you have trouble finding the report you are looking for contact us for help.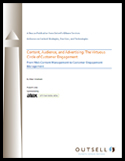 Content Immediacy: The New Marketing Imperative
by Marc Strohlein
February 2012
In order to drive buying behaviors, marketing content has to be interesting and readable, timely, and most of all, relevant to the intended audience. In the not-too-distant past, "relevant" meant that content was germane to a fairly broad demographic engaged in an undertaking such as buying a car or planning a vacation and was accessed by going to a website or reading print media.
In recent years, however, fueled by social and technology upheavals, the notion of relevancy has changed dramatically, requiring significant adjustments on the part of marketers in how they create and present their content. In particular, prospects and customers increasingly:
Use mobile devices to access cloud applications.
When using mobile devices, have a high interest in content that is relevant to their locale.
Do not want marketing content pushed at them, but rather want to engage on a level playing field in social networks and spaces.
Add to that the crushing amount of noise and distractions on the web and you have a thorny challenge for marketing executives. Marketing content competes with and sometimes masquerades as tweets, likes, posts, pokes, and other user-generated content—a vast and rapidly growing pool of content that dilutes the strength and appeal of content created by businesses.
With that changing landscape, it stands to reason that traditional ways of creating and distributing content and the web content management systems that were designed to support those ways will not make the grade in this new "social-local-mobile" (So-Lo-Mo) world. On the other hand, savvy marketers equipped with the right technology to achieve "content immediacy" will have a significant advantage over their less nimble rivals.
The term "immediacy" has several different connotations, including the dimensions of time, adjacency, and impact. Users expect content to be timely and dynamic, location-sensitive, and reflective of their wants and needs. This paper explains the challenges of satisfying the So-Lo-Mo imperative that is key to monetizing content, products, and services, and it identifies the characteristics of web content management systems that addresses them. Sponsored by Endplay.
---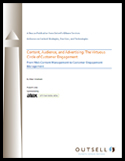 Customer Experience Management: The New "New" of Digital Marketing and the Role of Web Content Management
by Scott Liewehr
January 2012
It was not so long ago the term "web engagement" was coined, but the evangelization of the idea has already reached a point of maturity in its hype cycle. As consumers themselves, marketers understand that their target audiences are naturally more responsive when messages are tailored, and they appreciate that relevance is the key to audience attention. Whether in B2B, B2C, non-profit, or government, the folks on the receiving end of these messages are people with individual interests, experiences, desires and needs. More and more, they expect these to be factored into their digital experiences.
Customer experience is another notion hardly lost on the marketing profession, or even the general public for that matter. As a term, it has been around much longer than web engagement, but its meaning has evolved over time and varies from one circumstance to the next. Of late, customer experience and customer experience management (CEM or CXM) have become the new "new" of digital marketing parlance, or, more specifically, of the technology vendors who want to help achieve that noble goal. According to the latest product releases by a number of web content management vendors, web engagement management (WEM) seems to be yesterday's terminology while CEM is the flavor of the day.
It is the case, however, that CEM is far more than a positioning statement. CEM is emerging as a distinct digital marketing practice. Simply put, interacting with customers is fundamentally different than interacting with prospects. The difference is data. Organizations are sitting on a treasure trove of information about customers. Savvy marketing executives and managers are realizing that they can tap into that data and connect it with content management systems to drive sales, improve targeting and conversion rates, and take engagement to the next level.
Although WEM has always been far more about strategy and process than a particular technology, both WEM and CEM rely heavily on the capabilities of numerous technologies. This paper defines CEM and breaks it down into relevant sub-parts. We focus on the functional characteristics of the phenomenon and argue that the whole is far greater than the sum of the parts, many of which are already present in most organizations today. We also emphasize the central role web content management plays in binding the digital aspects of CEM together. Sponsored by Ektron.
---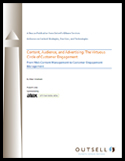 Content, Audience, and Advertising: The Virtuous Circle of Customer Engagement
by Marc Strohlein
August 2011
The Internet has become a crowded and noisy place—one billion Google searches per day, 45 million Facebook updates per day, 140 million tweets per day, according to each respective company. That is significant clutter for businesses to cut through in order to get the attention of potential customers. But cut through it they must, if they are to succeed.
In the face of such noise and distraction, the ability to attract, engage, and convert prospects to customers, and then retain them are primary keys to success. Executives know that engaging content, both enterprise and user-generated, are part of that equation. They also know that understanding their target audiences' interests and needs is important. And, they know that the ability to measure what content and marketing messaging works and what does not is critical. What many don't know is the best way to bring those pieces together in order to accomplish that goal.
This paper explains the new world of web content management and customer engagement, where managing content is the foundation of, but not the total solution. That total solution is an integrated environment containing content management, analytics, marketing messaging, and advertising.
One way to view the solution is as a "customer engagement engine" designed to flush out the desired goals and outcomes of a site visitor, serve up appropriate content, and then present marketing messages and advertisements that are relevant at the right moment to create the tipping point from engagement to conversion. And, at the same time, maintain brand consistency across all channels. That is the "virtuous circle" of content, audience, and advertising, and the ultimate aim and role of an integrated WCMS and customer engagement solution. The virtuous circle is created when the engagement engine learns from the visitor's behaviors, and presents ever more targeted editorial and persuasive content, eventually converting visitors to prospects and then to customers. Sponsored by Atex.
---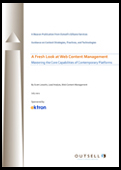 A Fresh Look at Web Content Management: Mastering the Core Capabilities of Contemporary Platforms
by Scott Liewehr
July 2011
In the age of digital engagement, the conversations about web content management (WCM) have shifted over the years from version control and WYSIWYG editing to content scoring and digital marketing automation. Contemporary WCM now refers to traditional capabilities augmented by native or deeply integrated analytics, social media management, ecommerce capabilities, learning management and/or marketing campaign management among others. The technologies are blending to the benefit of the consumer, but are organizations ready to capitalize?
The technology has improved to be sure, yet many organizations continue to struggle with the basic challenges WCM set out to remedy. The core tenets are fundamental and should not be overlooked, but that does not mean they are easy. Digital marketers have fallen in love with the idea of presenting visitors with unique, consistent, contextually relevant and engaging experiences across numerous channels. They hope visitors will interact with their brands and convert into loyal customers, sharing their experiences with others along the way. However, that vision is a mirage for companies whose foundation is unsteady and who are challenged to publish a press release in a reasonable timeframe.
In this paper, we take a fresh look at the core aspects of today's WCM systems. It is meant for content, business, IT, and web operations professionals who are responsible for evaluating, or reevaluating, the WCM needs of their organizations. We aim to arm them with an understanding of the technological advances of the principal capabilities available in these systems. We review the compounding complexities of today's landscape and their implications for immature and inefficient processes. And, lastly, we provide our perspective on the five foundational tenets of WCM, arguing that without a solid grasp on them, organizations will not be in position to capitalize on the modern-day offerings afforded by contemporary platforms. Sponsored by Ektron.
---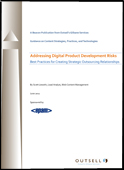 Addressing Digital Product Development Risks: Best Practices for Creating Strategic Outsourcing Relationships
by Scott Liewehr
June 2011
Smartphones outsold personal computers for the first time ever in late 2010. Consumers use their mobile devices for more than communicating – almost half of the time they are consuming content. HTML5 is transforming the experience that can be delivered in browser-based applications.
But organizations are finding that the promise of a digital product often greatly outweighs its actual performance once delivered. A digital product like a smartphone app for accessing paid content fails because of a clunky user interface. A catalog of artwork published on a high-end gallery website fails because it doesn't communicate the artist's brand. A community website fails because it doesn't scale due to lack of compelling content to attract active participants.
Digital products fail for all kinds of reasons. Poor development does not have to be one of them. Poor development processes compromise even the most well-conceived and well-designed digital products. The digital product development challenge is even more insidious, as organizations are also at risk of falling into the project mentality trap. Today's leaders in the digital product arena understand that their businesses are undergoing wholesale transformations. They can no longer afford to operate on a project-by-project basis when it comes to digital product design, development, and delivery. These organizations are creating roadmaps for success, complete with strategies for optimizing opportunities and predicting profitability, achieving efficiencies while managing non-fixed costs, and developing content and products that are device-agnostic in order to maximize opportunity and time-to-market. Sponsored by Epam.
---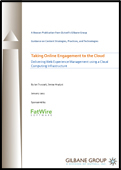 Taking Online Engagement to the Cloud: Delivering Web Experience Management Using a Cloud Computing Infrastructure
by Mary Laplante
January 2011
Gilbane defines Web Experience Management (WEM) as a business practice that formalizes an organization's approach to relating to its audiences through web-based channels. WEM is based on the premise that engagement that delivers high value to all participants does not happen by accident, but by design. An experience is capable of being improved and optimized only when it is repeatable, predictable, and measurable. This is the essence of the practice of WEM. As a business practice, WEM is enabled by a range of technologies, including web content management, personalization, dynamic content delivery, analytics and optimization, social computing, and mobile channel enablement. As such, WEM calls for integrated business, marketing and IT processes.
In addition to managing a complex set of technology challenges required for delivering an engaging web experience, companies also face a number of business challenges, including:
The corporate need for flexibility and business agility to react quickly to market changes and the fast-paced demands of multi-channel customer engagement.
Unpredictable infrastructure demands as content consumption patterns shift from traditional web pages to more multi-channel content and a dynamic web experience.
Scrutiny of fixed capital expenditures for web projects.
Digital marketers therefore need to quickly assemble solutions that operate within the organizational cost model, offer low barriers for entry and exit, match the peaks and troughs of the business demand, and are free of "big IT" procurement and cost restraints.
This paper explores how cloud computing can be an option when these challenges are rooted in the system infrastructure. Topics include what cloud computing means for digital marketers, deployment options for WEM solutions, and criteria for evaluating cloud-ready systems. Sponsored by FatWire.
---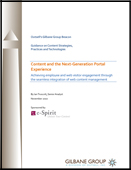 Content and the Next-Generation Portal Experience
by Mary Laplante
November 2010
Corporate websites have moved beyond sales and marketing functions and are now the first port of call for range of interactions. As consumers increasingly turn to the web as a customer service channel, giving the web visitor a service-orientated experience has a tangible business benefit. A high-quality web experience raises customer retention and satisfaction rates at a fraction of the cost of traditional customer service channels like call centers and e-mail. Self-services websites need to give visitors the ability to interact, to transact and complete their mission. This drives a requirement to link the back office with the audience-facing web property. Portal technology has a great track record for providing that.
Unfortunately, a portal often comes at the expense of good content. The reason organizations often cite for this is a constrained content publishing capability that is in the hands of a small group of IT or specialist users. This bottleneck is caused by poor business user adoption, a lack of devolved portal management, and difficulty related to content contribution. This is borne out by content authors using the portal who cite a lack of functionality offered in other content authoring tools, office products or social media web applications.
To overcome this, organizations should consider adding contemporary web content management and blend the best of both technologies. This strategy itself has some risks; fail to do this properly and the business users can find themselves confronted with multiple interfaces and a complex content publication processes. The business benefits of user adoption are never realized. A loosely coupled integration also impacts the visitor experience as it fails to provide a seamless integration of service and content.
In this paper, we provide guidance on key areas that organizations to consider when planning for and implementing a WCM to augment a portal delivery infrastructure. Sponsored by eSpirit..
---
Establishing a Successful Enterprise Search Program: Five Best Practices
by Lynda Moulton
November 2010
Gilbane positions enterprise search as search technology that operates within and for an enterprise. With many products in the marketplace, identifying the best fit for any enterprise begins with a deep understanding of a given business environment. Justifying enterprise search is not about whether a given product can index and retrieve information; all products on the market perform the basic functions of indexing and finding content. Determining which option can unify all information resources in a single index in a way that makes sense for your enterprise requires a planning process that gets to the right solution based on concrete business needs.
When undertaking the responsibility for a major enterprise initiative, it can be overwhelming to filter the options in a crowded marketplace. It is stressful to have to clarify which products make sense. As mundane as it sounds, planning for the decision in advance – logically sequencing the phases leading up to product selection – is a stabilizing exercise that builds confidence and reduces stress. Focus on a simple model with a small number of achievable milestones as a "best bet." A single outcome remains the constant and ultimate target: a search solution that actually gets implemented and widely adopted by users who embrace search as a critical asset in their work.
In this paper, we define five essential activities as necessary to achieving stellar results. Relationships are a key theme highlighted throughout. Sponsored by coveo.
---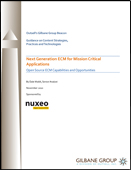 Next Generation ECM for Mission Critical Applications: Open Source ECM Capabilities and Opportunities
by Dale Waldt
November 2010
Enterprise content management (ECM) systems have long proven their value as enablers of mission-critical business applications.  If aligned properly with organizational business goals, they provide significant benefits. Processes can be streamlined, even automated. Users can access content in ways that are optimized for completing their work. Customers can be given access to content in ways designed to enhance their experience and satisfaction. Supply chain and business partners can be integrated smoothly into the operations of the enterprise.
In the past, buyers of ECM were constrained by the limitations of the systems deployed, including poor interoperability, data formats that did not support new Web delivery capabilities or reuse of content, rigid licensing, and a big price tag. As the next generation of solutions takes hold across the ECM landscape, stakeholders are finding attractive options to expensive monolithic systems. The new ECM platforms are on par with the features, functions, and capabilities that are available in first generation ECM solutions with proprietary architectures, and also offer significant functionality, price and deployment advantages. In addition to competitive capabilities, these tools can leverage open source development and support community and achieve lower overall costs.
This paper targets business and technical decision makers who are evaluating ECM solutions and want to ensure that they are considering the full range of systems available today. It lays out the requirements for mission critical enterprise content solutions. It differentiates ECM as a class of technology application from other types of content management technologies. It describes the core functionality and capabilities that are essential for contemporary ECM practices, and shows how modern open-source ECM platforms overcome limitations that have compromised the full realization of benefits in the past. A table comparing various ECM architectures and solutions illustrates that open source ECM platforms are solid candidate technologies for an ECM deployment project. Sponsored by Nuxeo.
---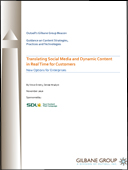 Translating Social Media and Dynamic Content in Real Time for Customers: New Options for the Enterprise
by Vince Emery
November 2010
The growing appetite for social and real-time content is a worldwide trend, with people consuming and contributing social content in their own languages. In several countries, both the percentage of people who use social media and the average number of hours spent using social media are much higher than in North American countries. For example, Social Media in Asia (July 2010) by NM Incite reports more than 220 million bloggers in China, more than twice as many as in the US. (For a graphical representation of the dramatic differences between social media use in different countries, see "Vision Statement: Mapping the Social Internet,"July-August 2010, Harvard Business Review.)
It is no surprise to see enterprises leveraging social media to engage with their customers. They are reaching social customers in many ways; the three most prevalent activities are customer care; marketing; and discovering customer preferences. Managers who support international business goals are increasingly pressured by this global popularity to provide and respond to social content in multiple languages. Even as it provides new opportunities, the need for multilingual social content creates new problems.
When translators localize content into multiple languages, they use technologies created for traditional static content, not for social content. Social media produce relatively large volumes of user-generated content that are then consumed by other users in real time or near real time. Even when assisted by technologies such as translation memory, traditional human-generated translations are too costly for social media and certainly are too slow for translating content that customers can generate faster than human translators can localize. Because human translators cannot scale their output to meet enterprise needs for fast, inexpensive, and accurate translations of social content, enterprises are beginning to turn to the only viable alternative: real-time machine translation (also called automated translation) for social media.
This paper targets marketing and customer care executives and content managers who need to understand new enterprise solutions for rapid translation of social interactions and dynamic content. Sponsored by SDL.
---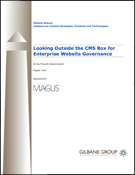 Looking Outside the CMS Box for Enterprise Website Governance
by Ian Truscott
August 2010
Quality content, consistent branding, regulatory compliance, and process efficiencies are business benefits long derived from CMS implementations. The technology has been so effective, in fact, that global enterprises often utilize a range of CMS platforms within their operations. The discipline of enterprise content management (ECM) is becoming less about imposing and implementing a single repository, and more about developing strategies to deal with the realities of heterogeneous CMS environments.
One of the primary points of challenge in such environments is effective website governance – securing quality and compliance through the consistent implementation and application of corporate policies and standards. More and more companies are finding that today's fast-paced and rapidly-evolving content requirements are pushing the limits of their CMS when it comes to governance. Despite the best content management technologies and the most disciplined implementation, organizations still struggle with quality and compliance issues. Customers and prospects can still find outdated content, inconsistencies and errors when they scratch the surface of web properties. These symptoms of broken governance are signs that perhaps the CMS alone is not enough for enterprise-wide control and administration of content standards and policies.
This paper is designed to help web and content management professionals sort through the issues of where and how content quality and compliance are best managed within their organization. Sponsored by Magus.
---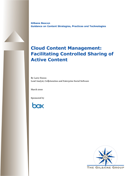 Cloud Content Management: Facilitating Controlled Sharing of Active Content
by Larry Hawes
March 2010
The nature of how business is conducted and organizations function is rapidly evolving, as a result of fundamental changes in demographic, technological, and economic realities. Workers are increasingly Web savvy; they use and like consumer Web 2.0 collaboration applications on the public Internet and are expecting and demanding similar software user experiences in the enterprise. Enterprises themselves are changing. Organizations are more networked, internally and with other entities, as a result of improvements in computing networks, globalization, and an increasingly mobile workforce. Economic forces are also reshaping the way organizations are structured and operate, including the IT function. IT department budgets have shrunk during the current recession, forcing IT staff to tackle an ever-growing list of computing requirements and projects with fewer human resources. At the same time, the Total Cost of Ownership for enterprise-hosted applications has become increasingly prohibitive relative to the lower cost utility computing model offered by cloud computing providers.
These macro-level changes have profound implications for the applications and systems that organizations use to share content internally and with others. Individuals have become more resistant to complicated, traditional content management systems that restrict their ability to collaboratively create, edit, and share valuable content within the organization. Furthermore, corporate firewalls and traditional enterprise content management systems impede the flow of that content as individuals within organizations attempt to collaborate with external partners, suppliers, and customers. Lastly, IT departments don't have the human or monetary resources necessary to quickly and cost-effectively develop new solutions that enable their internal and external customers to collaborate on and around content.
These challenges are driving organizations and their workers to think differently and to seek new content management strategies and solutions that complement existing content management systems. Continuing to manage and share content solely according to traditional practice is not a viable option. One promising approach is Cloud Content Management.
This Gilbane Group Beacon examines how large-scale trends are changing enterprise collaboration and content sharing requirements and expectations. It defines Cloud Content Management, an emerging set of content management practices and a category of software that supports those practices. Lastly, it demonstrates how Cloud Content Management is a value-adding complement to Enterprise Content Management today and has the potential to expand its ability to control the sharing of content more tightly in the future. Sponsored by Box.net.
---

Enabling the Promise of Open Government: Addressing Large-Scale Integration, Storage, and Access of Complex Information
by Dale Waldt
February 2010
Public access to our government information is a logical step for governments at all levels, considering that it was created by our public institutions. There are, however, many challenges that severely limit what is actually easily accessible. Government agencies and departments produce very large volumes of information in a wide variety of formats and structures. For years, the public has had access to only the tip of the data iceberg. Much of this information is locked in information silos and in proprietary or hard-to-access formats. A myriad of data structures, document types, storage formats and repositories, and even budgetary and personnel limitations have made it difficult for agencies to make the data available in robust, reusable forms.
The Obama administration recognized this problem and has released a directive describing the official policy for Transparency and Open Government that mandates an unprecedented level of accessibility to government information. The time has come for a rapid and profound improvement in open data via information sharing initiatives, for government, or any institution or enterprise. Delivering on the promise of open government will require improving the availability of large volume, diverse government data in robust, reusable form. A number of obstacles have historically limited these kinds of initiatives – or worse, simply put them out of the realm of possibility.
This paper identifies the obstacles facing developers of applications involving large-scale, heterogeneous data systems. It illustrates how they are being addressed with new technologies, standards, and approaches, and shows how they deliver value to governments and the citizens they serve within the context of two case studies. Sponsored by Mark Logic.
---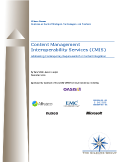 Content Management Interoperability Services (CMIS) – Addressing Contemporary Requirements for Content Integration
by Dale Waldt
December, 2009
The deployment of multiple content management (CM) systems within a single organization is no longer a business trend, but a business fact. Executives want to make decisions based on strategic goals and objectives, not on whether systems can be integrated with reasonable effort. Business buyers of CM want to be able to embrace integration so they can implement best-of-breed, purpose-built systems for specialized applications like digital marketing and electronic discovery. They need systems that connect externally as well as internally, supporting relationships throughout their value chain.
The Content Management Interoperability Services (CMIS) specification is a market-driven response to CM integration challenges. CMIS is being developed under the auspices of OASIS (Organization for the Advancement of Structured Information Standards) by an OASIS Technical Committee. CMIS specifies a standardized content management repository access method, providing a powerful, consistent way of connecting CM systems. It is designed to reduce integration complexity and the development time and costs required to provide interoperability between disparate systems. With CMIS, creating integrated content ecosystems with two or more repositories will be easier, cheaper, and faster. This paper describes the CMIS specification itself, the business and technical drivers behind its creation, and the benefits organizations can expect to see with its deployment.
---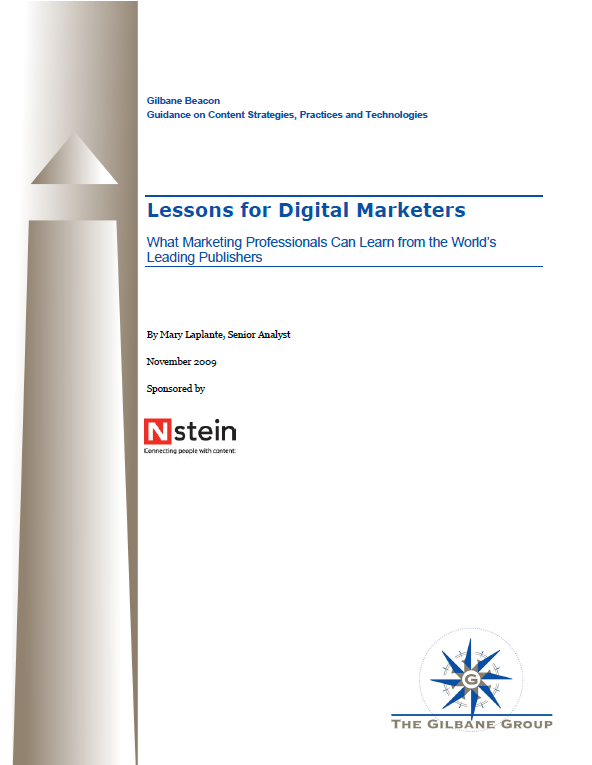 Lessons for Digital Marketers – What Marketing Professionals Can Learn from the World's Leading Publishers
by Mary Laplante
November, 2009
Gilbane believes that digital marketing managers can learn a great deal about leveraging content assets by drawing on the experiences of other content-rich organizations. One of the best candidate industries for lessons learned is the publishing industry. Challenges faced by CMOs and publishers are very similar: content closely tied to revenue streams, large volumes of diverse content types, rapidly evolving expectations regarding personalized content and interactivity, and requirement for frictionless publishing in order to meet the need for content immediacy.
In this paper, we share insights that will help digital marketers think like publishers. We draw on several examples that show how leading publishers have addressed knotty problems at the core of their businesses. We describe the content technologies that are central to their solutions, and we show how these tools and technologies can be deployed within digital marketing environments to achieve business results. Our goal is to help marketers develop a new perspective on their challenges, one informed by successes in another industry.
---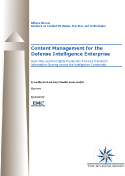 Content Management for the Defense Intelligence Enterprise – How XML and the Digital Production Process Transform Information Sharing across the Intelligence Community
by Geoffrey Bock and Barry Schaeffer
June, 2009
Over the past decade, DIA has invested heavily in XML to drive interoperability standards for defining, managing, and publishing community-accessible content. Mandated in 2002 as Intelligence Community Metadata System for Publications (IC-MSP), required to be in use by 2003, and most recently specified as Implementation Profile for Intelligence Publications (XML Encoding) (PUBS-XML),4 DIA defines the XML schemas and data dictionaries for the major types of documents produced within the intelligence community. Furthermore, the Intelligence Community Standard for Publication Metadata (ICS PUBS) relies on PUBS-XML to describe the structural components of documents and provides the foundations for "the successful implementation of a wide range of advanced automated tools that will help find, organize, analyze, and manage information products."
With the adoption of content management technologies that leverage XML, it is now possible for stakeholders to develop and deploy interoperable systems. But XML as the underlying tagging standard is only the means to an end – the overall DIA objective of ensuring interoperability and community-wide information sharing, including the mandate for stakeholders to submit reports to the Library of National Intelligence (LNI).
---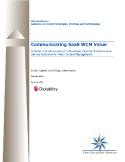 Communicating SaaS WCM Value – A Guide to Understanding the Business Case for Software-as-a-Service Solutions for Web Content Management
by Mary Laplante and Bill Trippe
January, 2009
Imagine that your company is not impacted by the economic issues that define the global business climate in 2009.
No spending freezes, no budget cuts, no staff reductions. No standing still amid uncertain and unpredictable external business factors. Upgrades and enhancements to critical business applications go ahead as planned. New web strategies for delivering content, increasing revenues, and satisfying customers are executed as top priorities, following executive mandate.
Now imagine that you can still move ahead with your web business programs, in spite of uncertainty. What would you gain by acting when others wait for recovery? What would that mean to your organization when the economy shifts around again?
This paper will help you understand how SaaS WCM fits into a strategy for making investments that create competitive advantage, even in unpredictable economies.
---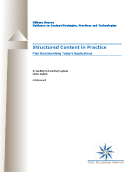 Structured Content in Practice – Peer Benchmarking Today's Applications
by Geoffrey Bock and Mary Laplante
October, 2008
The Gilbane Group and JustSystems are working together to crystallize the business benefits of structured content – documents that have been chunked into meaningful component parts and tagged in a systematic fashion. As industry analysts and software developers, our joint efforts are based on a simple assumption. We believe that tagging business documents by relevant components and managing the resulting chunks (sometimes termed content components) in a systematic manner will transform, and perhaps revolutionize, how companies use information to meet business objectives.
Structured content promises many business benefits for content intelligence and content reuse.JustSystems has developed, with support from Gilbane Group, the ROI Blueprint for Structured Content. The ROI Blueprint is a tool for analyzing the business value of structured content. We anticipate that content professionals, information architects, and systems designers will use this blueprint as a guide to examine how heretofore "unstructured" documents affect current activities and business processes.
---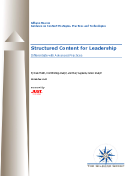 Structured Content for Leadership – Differentiate with Advanced Practices
By Dale Waldt and Mary Laplante
November, 2008
Companies create competitive advantage with technology by building on current practice in ways that others in their industries have yet to discover or implement. They pursue and establish leadership positions by extending existing knowledge into new domains and experimenting with established principles. The rewards for success can be significant, not only in terms of revenues, operational costs or other business measures, but also in terms of new skills, knowledge and expertise that create true competitive advantage and open doors to innovation.
Emerging applications for structured content have the potential to deliver this kind of value to organizations willing to go beyond current practice. Structured content can support a wide range of business activities, from the classic and well understood uses (in areas such as technical documentation) to emerging applications that enable organizations to become leaders in their field. If you already use structured content within your organization, you may be looking for opportunities to advance your current practices to create new value. Which applications are emerging as the next wave of XML adoption? How do they relate to your current implementations and initiatives? Once identified, how can you sell them to management?
In this paper, we look at real examples drawn from companies who are taking a leadership role in defining new approaches and implementing transformational applications of structured content. These examples will illustrate the positive impact on revenue growth, cost reductions, and risk mitigation. The foundation for the discussion is the "Leadership" view of the ROI Blueprint for Structured Content.
---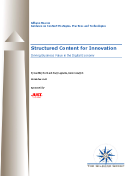 Structured Content for Innovation – Driving Business Value in the Digital Economy
by Geoffrey Bock and Mary Laplante
November, 2008
The Gilbane Group and JustSystems are working together to crystallize the business benefits of structured content – documents that have been chunked into meaningful component parts and tagged in a systematic fashion. In this report, we will consider how structured content can be used to foster innovation of business operations and processes, and thus drive promising and profitable business opportunities.
What is structured content for innovation? We believe that you need to focus on business results. To our way of thinking, structured content for innovation enables an organization to do what has not been possible without structure, and without the processes that structured content enables. Innovation brings fundamentally new capabilities to an organization. Innovation derives not just from how structured content is used, but also from where it is used.