This page contains links to some research reports and studies, most of which can be downloaded for free. These reports are currently managed by Outsell Inc. so some links will take you to the Outsell Inc site. If you have trouble finding the report you are looking for contact us for help.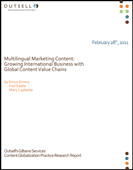 Multilingual Marketing Content: Growing International Business with Global Content Value Chains
by Vince Emery, Karl Kadie, and Mary Laplante
February, 2011
Today's marketing and brand management groups are on the front lines of business mandates to grow international revenue, increase worldwide market share, and strengthen the impact of global brands. Businesses reaching for such goals face an environment of unprecedented pressures. How are companies dealing with the demands of multilingual marketing? How are marketers handling new online media and swelling volumes of content? How are they providing consistent customer experiences across dissimilar languages and cultures? How are they controlling costs? What obstacles prevent the alignment of multilingual marketing content with businesses' larger goals? Which investments deliver the most impact?
To help global businesses address these questions, Outsell's Gilbane Group conducted research on the state of practices for managing global marketing content. In Multilingual Marketing Content: Growing International Business with Global Content Value Chains, Gilbane analysts aggregate the real-world experiences of organizations that compete in multinational markets. The report describes proven approaches to increasing the value of content as a key component of strategic brand management and marketing communications, citing examples of how industry leaders have succeeded and failed. Brand and marketing managers, business executives, content strategists, and language professionals will gain new insight into how to improve their global content operations, determine which investments generate new competitive advantage, and bring their practices in line with larger business goals.
The report updates Gilbane's well-recognized concept of the global content value chain, a strategy for unifying the entire process of moving multilingual content from creation through consumption. In addition, key findings explored in the report include:
Many companies' strategies and infrastructure for multilingual marketing content are relatively immature compared to those for non-marketing content. Language afterthought syndrome, described in Gilbane's companion report on Multilingual Product Content, is prevalent within global marketing organizations.
Many marketing projects are, in effect, experiments, with no clear definition of how they will deliver business value. Determining ROI is therefore especially challenging.
Marketers are being pulled to improve their multilingual marketing content operations by a burning need to improve the global customer experience.
Businesses that improved their marketing content globalization results quickly and cost-effectively have done so by leveraging the infrastructure already in place for product content.
Download this 37 page report at no charge.
---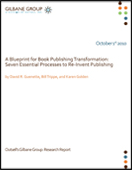 A Blueprint for Book Publishing Transformation: Seven Essential Processes to Re-Invent Publishing
by David R. Guenette, Bill Trippe, and Karen Golden
October, 2010
Our Blueprint study is the first in-depth look into ebook-related issues from the book publishers' perspective, tying digital considerations to the everyday book publishing processes," says David R. Guenette, report lead for The Gilbane Group (a division of Outsell, Inc.) A Blueprint for Book Publishing Transformation: Seven Essential Processes to Re-Invent Publishing. "Book publishers across all segments are embracing ebooks, but they require guidance grounded in what they actually do, more than simply a focus on technology.Among the most interesting findings from the "Blueprint" research:
Ebook publishing is well-established across all book publishing segments, with significant revenue growth expected over the next five years;
XML-Early is a surprisingly common among book publishers, with many publishers using vendor partners to accomplish digital editorial and production workflow;
Single-source content management provides a crucial hedge against changing formats and devices for ebooks;
Digital workflow has helped make digital printing—POD, ultra short run, and custom publishing—an important part of content monetization and cost reduction;
Integration of the various publishing processes remains elusive to date, but more of the prerequisite capabilities for realizing major cost savings and new product creation through process integration are in place, making process integration a realistic strategic goal over the next several years.
A Blueprint for Book Publishing Transformation: Seven Essential Processes to Re-Invent Publishing is a major work, at 277 pages, 10 tables, and 56 figures. The study's main sections include:
Digital Comes to Book Publishing, which provides a background on the state of ebooks today;
Book Publishing's Seven Essential Publishing Processes, which covers the processes of book publishing, tied together with e-book specific and digital publishing in general considerations;
What is a Digital Book?, which discusses the very nature of "digital book";
The Digital Publishing Industry Outlook, which presents analysis of current e-book and digital publishing practices and challenges while seeking to define what is important for the book publisher to keep in mind moving forward;
Case Studies, undertaken through in-depth interviews with book publishers with an emphasis on real-world experiences;
Digital Book Publishing Industry Directory, a useful tool providing an alternate snapshot of where the book publishing industry is, especially in terms of tools and services. especially in terms of tools and services.
Download this 277 page report at no charge.
---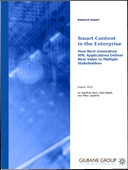 Smart Content in the Enterprise: How Next Generation XML Applications Deliver New Value to Multiple Stakeholders
by Geoffrey Bock, Dale Waldt, and Mary Laplante
August, 2010
XML applications have long proven their significant value — reducing costs, growing revenue, expediting business processes, mitigating risk, improving customer service, and increasing customer satisfaction. XML-based solutions driven by reusable, componentized content have brought true innovation to production processes, partnership enablement, and customer interactions.For all the benefits, however, managers of successful XML implementations have struggled with attempts to bring XML content and applications out of their documentation departments and into their larger enterprises. Even the most articulate champions find it challenging to communicate XML value propositions to broader audiences. Yet at the same time, companies are beginning to understand how to capture metrics to make business cases, such as cost savings from reuse. Technologies for XML content processes have matured and are widely available at a variety of price points and delivery models. Service providers have developed knowledge and process expertise that can offload much of the work that distracts enterprise users from focusing on their core businesses.But for all this market readiness, so much XML content value remains untapped. Why is this so? Why do XML applications that have performed well at the departmental level fail to be adopted in other areas of the organization where they can also deliver business benefits? What does it take to break out of the XML application silo? What is the magic formula for an enterprise business case that captures and keeps the attention of senior management?This study describes an emerging class of contemporary XML applications built on smart content – content that is granular at the appropriate level, semantically rich, useful across applications, and meaningful for collaborative interaction. Smart content is a natural evolution of XML structured content, delivering richer, value-added functionality.
The research and analysis presented in Smart Content in the Enterprise make the case for thinking about XML content in a new and fundamentally different way, giving rise to the need for the next generation of XML applications, capabilities, and competencies. Organizations that begin to understand this will be at the forefront of leveraging content to deliver new value to multiple stakeholders, including customers. The report includes six case studies that show how this is being done today.
Download this 80 page report at no charge
---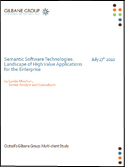 Semantic Software Technologies: Landscape of High Value Applications for the Enterprise
by Lynda Moulton
August, 2010
Over thirty companies that embody semantic technologies are routinely featured in surveys of the enterprise search landscape. But dozens more contribute semantic software solutions in the broader information marketplace, and they are largely unknown to the average knowledge worker. Because these semantic tools are not familiar to IT and business managers, they are underutilized where opportunities for major enterprise semantic search improvements could be made. This report will be valuable to readers with a business function that might benefit from semantic tools and those on the front lines for selecting, implementing or depending on (as direct or indirect users) semantic software. Experts and specialists in the field will find it useful for explaining what it is that they need to procure, why it will improve their work results, and how that can impact the bottom line. The focus is better business outcomes for the enterprise by identifying, selecting and implementing the appropriate software for a particular work function in an enterprise. It is not exhaustive but representative of the range of semantic software technologies in use today, including text mining and text analytics, concept and entity extraction, concept analysis, natural language processing (NLP), sentiment analysis, and auto-categorization. Three major themes govern the body of the report: definitions and background, application information aligning players in the current software landscape with use cases, and guidance for buyers and sellers of semantic software.
Download this 87 page report at no charge.
---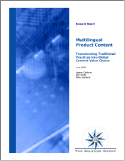 Multilingual Product Content: Transforming Traditional Practices Into Global Content Value Chains
by Leonor Ciarlone, Karl Kadie & Mary Laplante
July, 2009
Decades of processes and practices have grown up around the creation, management, and delivery of technical content that enables customers to derive value from the products and services they buy. As the manufacturing age gives way to the information age, as "global" becomes an adjective that describes more and more businesses, and as the basis for competitive advantage shifts away from manufactured products, established content practices are undergoing profound and fundamental changes to support the new global order of business.In spring 2009, Gilbane Group conducted in-depth, qualitative research on the state of global product content practices and progress towards transforming traditional practices into Global Content Value Chains (GCVC). To our knowledge, this is the first study to focus on end-to-end globalization of product content from two perspectives: from that of the content management professional and that of the language professional. We believe that it is also the first to be presented by an independent voice, separate from supplier-produced case studies, informative though they may be.This study extends the work that we published in 2008 in our report entitled Multilingual Communications as a Business Imperative: Why Companies Need to Optimize Their Global Content Value Chains (referred to herein as "Multilingual Communications 2008"). Observations and conclusions from that work are referenced throughout. Readers will find it useful to download Multilingual Communications 2008, available for free from Gilbane, as background to this report.
Download this 82 page report at no charge.
---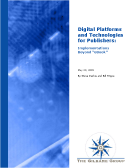 Digital Platforms and Technologies for Publishers: Implementations Beyond "eBook"
by Steve Paxhia & Bill Trippe
May, 2009
Digital technology has revolutionized many sectors of the media business. Apple's iPod has changed the way that people buy and listen to music. Google has drastically changed the way that people find and consume information. YouTube enables both individuals and organizations to bring their messages and products to the masses in a much more vivid fashion. WebMD brings new ways for consumers to access medical information, while PubMed presents a comprehensive index of biomedical articles for practitioners and scientists. The common element in these and other examples is that the digital product is designed for and fully utilizes the capabilities of digital media. Book publishers are now at the threshold of a similar revolution as they plan their next generation of products, and the building blocks for change are largely in place. This study surveyed a wide range of book publishers and related service companies from all market segments including: trade/children, reference, professional, school, and higher education. The final report addresses these five key strategic questions:
What features and functionality are required to offer readers digital products that expand their reading and learning experience and offers them better value?
What are the technology and workflow implications of doing true cross-media publishing?
What editorial and business models are best for digital products?
What channel relationships and partners are required to maximize new revenue opportunities?
What role should search engines play in a publisher's product and marketing strategies?
Download this 142 page report at no charge.
---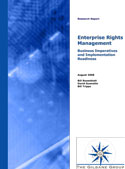 Enterprise Rights Management – Implementation Imperatives & Business Readiness
by Bill Rosenblatt, David Guenette, & Bill Trippe
August, 2008
Gilbane Group's new report presents the most comprehensive publicly available research on the ERM market ever undertaken. ERM: Business Imperatives and Implementation Readiness is backed by qualitative and quantitative research on general awareness of ERM, the current state of ERM deployments or plans to deploy (or decisions to avoid the technology), and target applications. According to study data:
Protecting confidential information from leaking outside the organization is the primary motivation driving ERM adoption.
ERM is becoming important for supporting information usage regulations such as Sarbanes-Oxley (accounting) and HIPAA (healthcare).
Apart from regulatory compliance, client/customer communications and financial processes are other types of business processes involving confidential information that are the most prevalent for ERM implementations.
55% of ERM implementations are integrated with content management solutions (including knowledge management and groupware/collaboration).
Gilbane Group's study methodology included a survey of over 200 senior IT, security, and content management professionals across a range of vertical industries, conducted in cooperation with the Center for Marketing Research at the University of Massachusetts Dartmouth. The research also draws on in-depth case studies on ERM deployments at six multinational companies; the case studies are included in the report.
Download this 67 page report at no charge.
---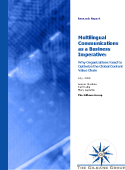 Multilingual Communications as a Business Imperative: Why Organizations Need to Optimize the Global Content Value Chain
by Leonor Ciarlone, Karl Kadie, & Mary Laplante
July, 2008
The study is backed by in-depth qualitative research on how global businesses are creating, managing, and publishing multilingual content. Given that many companies expect growth from multinational revenues, 92% of respondents are concerned about the risks of not improving content globalization processes. The research identifies key challenges, including a gap between strategic business goals and investments in multilingual communications, difficulties in balancing centralized and regional operations, and the lack of integration and interoperability across authoring, content management, localization/translation management, and publishing components. Moreover, the study reveals how industry leaders are addressing these challenges, and provides Gilbane's recommendations on best practices. The study methodology included in-depth interviews with 40 content and localization/translation management practitioners in multinational organizations. The result is a unified perspective on the full spectrum of multilingual content processes, previously viewed as isolated activities.
Download this 93 page report at no charge.
---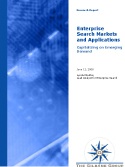 Enterprise Search Markets and Applications – Capitalizing on Emerging Demand
by Lynda Moulton
June, 2008
Enterprise Search Markets and Applications summarizes the marketplace in a way that will help buyers map their needs to search products that will deliver the most value in the shortest amount of time, and at a reasonable cost. Additionally, buyers will find practical guidance about product evaluation, selection, implementation, deployment and maintenance. A vendor directory and glossary round out the content directed to new buyers. Search users who are expanding or seeking improvements to their current experience will find advice on making incremental adjustments in deployment. Vendors who are developing, selling, marketing, or supporting customers with enterprise search applications will find aids to competitive intelligence in the market landscape, directory and glossary.
Download this 85 page report at no charge.
---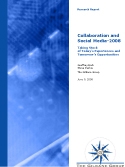 Collaboration and Social Media – 2008
by Geoffrey Bock & Steve Paxhia
June, 2008
Collaboration and Social Media 2008shows how social media, based on "Web 2.0" technologies, is approaching the tipping-point. First generation tools now in widespread use, such as text-oriented email, web sites, and shared workspaces, are soon to be supplemented by social media applications that incorporate blogs, wikis, social bookmarking, rich media, and other innovative technologies. The Gilbane research report predicts the transition from horizontal applications to vertical solutions, and offers a number of strategies to help companies with the transition.
The report combines a national survey of marketing executives with in-depth case studies of ten companies and a comprehensive vendor catalog. Nora Ganin Barnes, Director of the Center for Marketing Research at the University of Massachusetts Dartmouth, led the survey team that interviewed business leaders in medium and large American companies.
Download this 123 page report at no charge.
---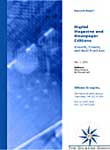 Digital Magazine and Newspaper Editions – Growth, Trends, and Best Practices
by Steve Paxhia & Bill Rosenblatt
May, 2008
The study covers the market for digital editions of periodical publications, and features statistics that unify audited data from two sources (BPA and ABC) with data from unaudited publications. Highlights from the statistics include:
The number of business-to-business (B-to-B) publications offering digital editions has increased over 300% from 2005 to 2007, with total subscriptions also increasing over 300%.
The number of consumer publications offering digital editions has increased over 200% from 2005 to 2007, with total subscriptions also increasing over 200%.
Digital vs. print penetration of B-to-B subscribers is up from 13.3 to 15.0%, while digital penetration of consumer publication subscribers is down from 2.2 to 1.4%.
The report includes 22 case studies of publishers, representing several dozen digital edition titles, which showcase a number of industry best practices identified by the study's authors.
Download this 130 page report at no charge.
---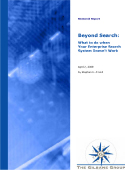 Beyond Search: What to do When Your Enterprise Search System Doesn't Work
by Stephen Arnold
April, 2008
According to the author, "The study – a first in analysis of search and content processing – represents more than a year of research into text processing and information access. 'Enterprise search' has become devalued and is misleading, out-of-date, and a cause of the on-going confusion about information access." He adds, "Who wants a system that is expensive, slow, and makes the employee with a real information need do more work. Shouldn't search should make the employee's job easier?"
The study contains a discussion of how-to's, so you can fix your broken enterprise search system. You will also find a detailed discussion of today's market for search and content processing systems, with profiles of 24 selected vendors.
Purchase this 270 page report.