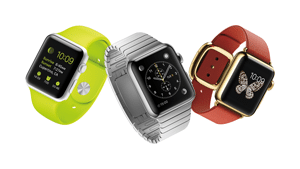 "The future of watches" title is a bit grand for this brief post, but this is somewhat of a companion piece to The future of tablets and the context of both is the evolution of computing devices. In the case of tablets we are still figuring out their role in the ecosystem after many years and over four since the initial iPad, the first breakthrough tablet. It will also take some time, and development, to see where smartwatches fit in, but it is now a much more interesting question.
The Apple watch announcement stumped many commentators who needed extra time to digest it. A reasonable reaction given neither product nor platform are done yet. This makes it a bit difficult for technology, market, or financial analysts to answer questions like what the Apple watch is really for, whether it is a new product category, will it be another breakthrough product for Apple, how it will change the mix of Apple revenue, do I actually need or want one.
Communication has been the killer app for computing at least since the Web and is why smartphones are the current king of the hill. Smartwatches are the most likely next-in-line competition to smartphones, certainly more so than tablets or glasses, before we enter the world of implants, stick-ons, or other fashion accessory choices. Smartwatches with phone functionality could surpass smartphones as the planet's most popular personal computer: easier to carry around, potentially cheaper.
Apple would not be investing so heavily if they didn't expect smartwatches to overtake or at least approximate the success of smartphones. They are betting large on the watch becoming a general purpose computer in the same way the iPhone has.
Or, they are reaching even further…
It doesn't make sense for Apple to invest much in accessories, or niche markets. Even fitness is not interesting enough in itself. However, fitness is a great way to enter into the much larger healthcare opportunity, which in turn provides an environment to learn about new user experience technology and the complex device integration and data sharing necessary for it, and other complicated applications of general purpose computing. The iPhone would also benefit. This path also has the advantage of providing cover.
Also see:
Rich ruminating… Ben Evans: Ways to think about watches.
Working through what the Apple watch is about… Ben Thompson: What I Got Wrong About Apple Watch and Why Now for Apple Watch
Compared to other smartwatches… Rachel Metz:  Is This the Smart Watch You've Been Looking For?
Review from a watch industry analyst… Ariel Adams: Apple Watch Hands-On: The Wristwatch Just Caught Up To The 21st Century