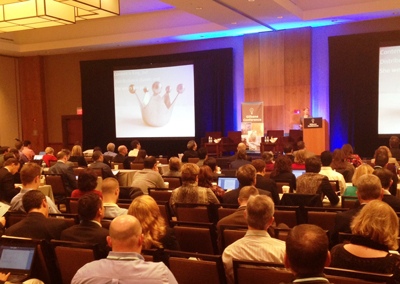 In Marketing technology landscape explosion and CMS evolution we looked at two of the major themes of December's Gilbane Conference. The third major theme that we asked speakers to respond to in our spotlight series was the challenge of multichannel delivery:
What is the best overall strategy for delivering content to web, multiple mobile, and upcoming digital channels? What is the biggest challenge? Development and maintenance cost? Content control? Brand management? Technology expertise?
The best overall strategy and the biggest challenge are the same: creating and managing content that can be optimized for each channel and device including those not anticipated. In short, true Multichannel Content Management, or MCM if we can deal with yet another acronym (Yaa!). Of course the "multichannel" is only necessary for emphasis because "web" content management has been dominant for a few years, and "enterprise" content management was hijacked by the document management interests early on. Perhaps soon, "multichannel" will be redundant and just plain old "content management" will suffice.
Multichannel content management is really hard. Organizations have been implementing such "single source publishing" or "create once, publish everywhere" systems for many years, but the difficulty and cost prevented most from taking it on and forced others to give up even knowing it was the right thing to do.
Multichannel content management is still hard, but it was one thing to hesitate when there was only one extra channel – now there are n+1 channels, the cost equation has changed, and you can't build a sustainable digital experience without solving this problem.
Organizations who successfully built multichannel content management systems in the past were largely those with direct access to technologists, for example technical documentation, product support, engineering, and R&D. Marketing organizations, aside from a few with large global presences and big brand asset management problems, mostly stayed away – technology and cost were fearsome, and organizational structures and agency dependencies also created barriers. Staying away is no longer an option. Reaching today's consumers requires an n+1 distribution strategy.
In her keynote presentation, Marriott's Meg Walsh inspired the audience with her discussion of their distribution and scale challenges and the necessity for a strategy based on adaptive content that is device agnostic – in other words, a multichannel content management capability. She shared a wonderful quote from Jonathan Perelman, VP, Agency Strategy @Buzzfeed, "Content is King, but Distribution is Queen, and She wears the pants."
Note that Meg's role is very much that of a marketing technologist. She ran the content management practice in Marriott's sales and marketing group before moving to Marriott's IT organization to take responsibility for technology platforms to support the sales and marketing activity.
We'll be covering much more of what one attendee called "Real Multichannel Content Management and publishing" at this year's conference, and would love to hear from more marketing organizations that are making the Distribution Queen happy.