The most popular and pervasive meme at the recent Gilbane Conference on Content and the Digital Experience was certainly "marketing technologist". There were many other topic streams but none quite so critical to marketings', and marketers', future (and not only marketers, but that's another story).
One of the three questions we posed to our speakers prior to the conference was, Is there a "Marketing Technologist" role in your organization or in organizations you know of? Should there be? What should their responsibilities be? A number of speakers, including Scott Brinker, provided answers in our speaker spotlight series. Scott also delivered the keynote What is a Marketing Technologist? where he shared a graphic he had created of the marketing technology landscape that illustrates what a marketing technologist has to deal with. Last week he published the new substantially enhanced version below that is now a must-have reference tool.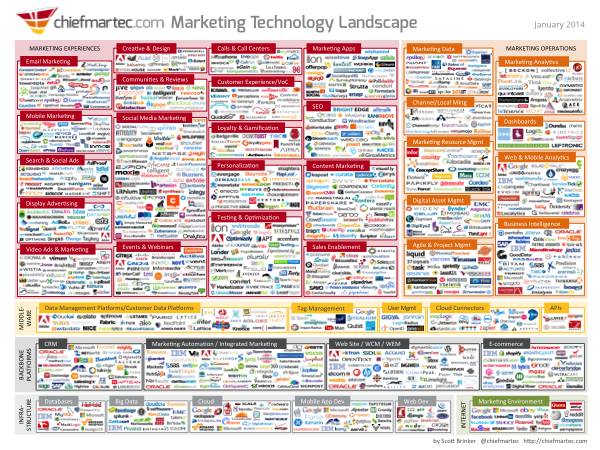 What makes Scott's latest version dramatically more valuable for marketers and IT, or anyone involved in digital experience strategies and architectures is the organizational structure he added. As Scott says this is not perfect or the final word. But the six technology categories and structure are certainly a courageous stake in the ground.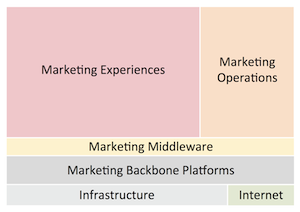 Be sure to read Scott's full post, where he explains what he has done in more detail, provides links to high resolution .png and .pdf versions of the marketing technology landscape super graphic 3.0, links to additional resources, and answers the many comments he has received.
Web content management
Scott's new landscape also provides some food for thought regarding a second major theme at the conference, which we included in another of the three questions for the speaker spotlights: Do you think "web content management" should be the hub of digital experience management implementations? If so, should it have a new name to match an expanded role? If not, what should be at the center? A slightly different way to think about this is to ask where the center of gravity is in marketing technology architectures.
Scott places WCM and all its variations (CEM, CXM, DXM, etc.) in the Marketing Backbone Platform category. This is surely where it belongs, but it raises lots of questions about just how it ties in with or ties together all the other categories and the variety of technologies within them. And of course there is overlap and competition for the center-of-gravity crown between e-commerce, CRM, and marketing automation platforms, though some of them may not realize it yet. This will be a very interesting game to watch in 2014 (and certainly one we'll be addressing in this year's conference). See Scott's thoughts on this in his CMS Wire post on 9 Key Facts about Web CMS in the Marketing Technology Landscape.