Before we get to the spending mentioned in the title, there is some important background to cover. In an email to the Presidential Innovation Fellows program mailing list yesterday and a blog post with Small Business Administration Administrator Karen G. Mills last week, White House CTO Todd Park reported on the progress of a pilot program, RFP-EZ, to make federal government RFPs accessible to small businesses.
In addition to making it easier for small businesses to win federal contracts, a key goal is to save the government money since small business bids are typically lower than larger organizations'. Another significant benefit is that it makes it easier for agencies to purchase from innovative small businesses (since more are bidding). In the technology space especially, small businesses provide the lion's share of innovation.
So how is this program doing so far? From Park and Mills post:
Applying agile development principles, the Fellows team designed RFP-EZ over a six-month period, publishing the platform's code openly on GitHub. The team then launched the pilot by posting five relatively simple website development and database contract offerings, four of which were also announced via the standard government portal, FedBizOps. On a per-project basis, bids received through RFP-EZ were consistently lower than those received through FedBizOps—19% to 41% lower, and over 30% lower on average. Bids made through RFP-EZ also showed less overall variation. In addition, during the pilot period, RFP-EZ attracted more than 270 businesses that until now had never approached the world of Federal contracting.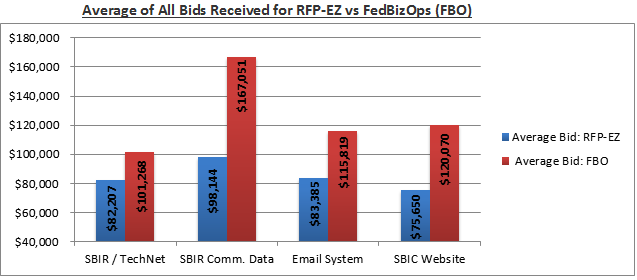 Ok, now for the spending. First of all, note that the OMB says the total 2014 Federal IT budget is $77 billion. If you haven't seen it yet the OMB IT Dashboard yet it is worth a look, and you can download a spreadsheet that has details on spending by agency and project. Park and Mills also said in their post that:
According to Office of Management and Budget's IT Dashboard, the Federal Government will spend more than $1.4 billion on Web Infrastructure and Web Content Management Systems in FY 2014. Based on 2011 and 2012 results, we can expect about half of these projects to be under the $150,000 "Simplified Acquisition Threshold" that would make them eligible for contracting through RFP-EZ.
This may not seem like a lot at first glance, but at $150,000 each it would mean 4,666 web content management systems or web infrastructure projects it would be fairly easy for small vendors and consultants to bid on in 2014.
Presumably the numbers came from the OMB IT spending spreadsheet, but since software category definitions are fluid, to say the least, doing your own analysis would be a good idea. While our community knows that, for example, "web content management" can include or be a component of a collection of digital marketing tools for engagement or experience management, marketing automation, etc. we can't assume all federal budgeteers do – or did when the budgets were developed.
All of this is excellent news for a substantial number of the vendors, integrators, and consultants who participate in the Gilbane Conference. It is also great news for federal government conference attendees who can more realistically do business with smaller companies who have the latest technology.
To participate in the RFP-EZ program sign-up using the very simple web form.