The Gilbane Report's mission is to provide market education that helps adopters of content technologies develop solid, sustainable content strategies, to make informed buying decisions, and to deploy their technologies successfully. We deliver on this mission through The Gilbane Report, now in its thirteenth year of publication, our portal at www.gilbane.com, our conferences, and through an industry initiative called Content Technology Works (CTW).
CTW is administered by The Gilbane Report. The goal of CTW is to help adopters of content technology learn from their peers about what works and what doesn't work when it comes to deployment. Under the CTW banner, we capture, publish, and freely distribute in-depth case studies that describe best practices. The premise is that given enough recipes for success, adopters can bias their own implementations towards success.
CTW partners underwrite the cost of this educational program. Partners benefit in three ways: content creation, demand generation, and brand visibility.
Content creation
The Gilbane team develops an in-depth case study on one of the partner's customers. Approval of the study is solely in the hands of the customer, not the partner. Partners contribute one page describing their perspective on the customer's success. The result is an independent analysis of content technology in action. Case studies are between 15 and 20 pages in length. They are posted in the Gilbane site and made available for free.
Demand generation
The Gilbane analyst who writes the case study participates in a web seminar hosted by the partner. The topic of the seminar is related to the case study. The seminar is co-promoted by the partner and The Gilbane Report. We post an announcement about the seminar on our website, which receives an average of almost 40,000 hits per day. We prominently mention the seminar (with a link to the partner's website) in our weekly newsletter, which is sent to over 3,000 subscribers worldwide. The partner handles the registration, and so collects all the leads.
Brand visibility
CTW partners are featured on our website, on signage and presentations at our conferences, in Gilbane press releases, and on all CTW materials, including other partners' case studies. As an example of reach, CTW partners were featured in the printed conference brochures for our 2004-5 conferences, which were mailed to 140,000 recipients. We devote an entire track of our conferences to presentations by CTW partners' customers.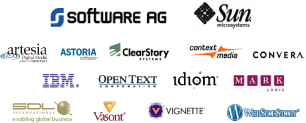 For additional information call Mary Laplante, VP Consulting Services at +1 617.497.9443 ext 212, mary@gilbane.com.