Applying Content Technologies to Enterprise Applications

Pre-conference Tutorials: November 29, 9:00am - 12:00pm
Main Conference: November 29, 1:00pm - December 1, 5:00pm
Technology Demonstrations:
November 30, 10:00am - 7:00pm & December 1, 10:00am - 4:00pm
Westin Copley Place, Boston, MA
In Boston this year we will be focusing on the broad range of content technologies available for enterprise applications, including widely deployed technologies like content management and enterprise search. We will also be looking at the use and applicability of newer technologies for corporate content applications, especially blogs, wikis, RSS, and "rich internet" applications.
Because of the need to apply content technologies throughout enterprises, the variety of business applications involved, and the diversity of relevant content technologies, we are organizing our Fall conference program by categories of job function, rather than by technology. This should make it quicker and easier to choose the educational program that will most directly meet your needs. For example, If you are responsible for managing content, you should first look at the Content Managers track, but depending on where you are with your project, there may be a technology you need to learn more about in the Content Technologists track, or, if you specifically manage financial documents, the Business & Compliance Managers Track. The 5 tracks are:
Content Managers Track (CM). This track is for anyone managing content of any type, for everything from small websites, to knowledge management intranets, to large enterprise content strategies.
Content Technologists Track (CT). These sessions are for IT or technically oriented content or business managers. The material is a little more technical and looks at a select set of content-related technologies.
Marketing Managers Track (MT). This track is designed for content managers who need to manage marketing content, whether for an e-commerce site or a cross-media brand or publishing strategy.
Business & Compliance Managers Track (BC). This track is for managers responsible for compliance, governance, and managing content to enhance business processes and risk reduction.
Content Technology Works Track (CTW). This track presents and examines case studies that have been evaluated as part of the Gilbane Content Technology Works Program. The emphasis is on all aspects of successful implementations.
Are you a Content Manager? an IT Strategist or Project Manager? a Business Manager or Marketing Manager that needs to improve or streamline information creation, management and delivery? Do you relate to the "?" in the diagram below? If so, join us in Boston and learn how to apply the right technologies to your business application from experienced content management practitioners, consultants, and technologists.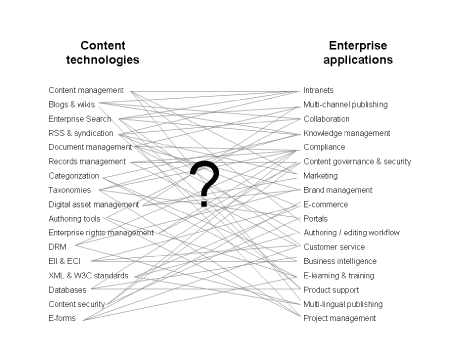 The Content Technology Works Track features case studies evaluated as part of the Content Technology Works (CTW) Program, an industry initiative to assess, document, and distribute hype-free case studies and best practices in content technology.
CTW partners include: